Xenon Lamp Weathering Test Chamber 
Product introduction:
Xenon Weathering Test Chamber uses a xenonarc lamp that can simulate full sunlight spectrum to reproduce destructivelight waves that exist in different environments. This enables the device toprovide the corresponding environment simulations and acceleration tests forscientific research, product development and quality control. 
Parameters:xenon weathering test chamber
Model

CX

Internal Dimension (W*D*H)

800*800*800mm

External Dimension (W*D*H)

1450*1500*2000mm

Inner chamber material

SUS 304 # Stainless Steel, Anti-rust, easy to clean

Outer chamber material

Stainless steel

Chamber Temperature

40±3℃

Temperature Uniformity

≤3℃

Blank panel temperature

65±3℃

Humidity Range

50%-90%

Irradiated intensity

0.35±0.02w/m²at 340nm

Xenon lamp power

6.5KW water-cooled xenon lamp x 1pc

Control system

PLC controller, touch screen

Distance from specimen to arc center

250~300mm, Effective exposure area 6400cm2

Max. Sample dimension

200*90mm Thickness<20mm

Filter

Daylight filter

Door seal

Silicone rubber seal

Temperature sensor

PT100 high precision temperature sensor

Air circulation system

Stainless steel centrifugal rotor vane to improve the uniformity of temperature and humidity

Cooling ventilator

Automatic controlled by temperature controller, and inner chamber cooled by refrigerating system

Cooling ventilator

France Tecumseh compressor

Power

AC380V, 50Hz, three phase

Safety Protection

Over heat protection for fan,

Over load protection for cooling system,

Over pressure protection for cooling system,

Over temperature protection,

Over heat and over flow protection for water pump,

Leakage protection, Water shortage protection,

Auto stop after failure warning
Xenon weathering test chamber details:

PLCcontroller

Other company:TEMI880 Other company:
CLIMATE: SIEMENS touch screen and PLC control system, independent researchand development program for the independent design of xenon lamp, with auser-friendly interface.
Advantage:Independent research and development,programming, more humane, more accurate. Tailored for customers.
Blackpanel temperature sensor

Other company:domestic brand
CLIMATE:Japan SANJAC,Temperaturemeasurement range - 100-200 degrees
Advantage: widemeasuring range, high precision.
Xenonlamps

Other company:Domestic brand a tube
CLIMATE: 1.8 KW(all solar spectrum long arc xenon lamp) 3, life: 1200 hours
Advantage:Air cooled xenon lamp three tubes placed sideby side spacing 100MM, uniform light intensity.
Irradiancemeter

CLIMATE: Germanchip design
Intelligentirradiation induction loop system. Full spectrum 290-800NM, 575-1120W/m2,ultraviolet 340NM band 0.5-1.2W/m2 
Advantage:High temperature, high humidity resistance,shell 304 material design and production. Intelligent automatic radiationintensity compensation, the system can automatically compensate by increasingthe power of xenon lamp.
Xenon weathering test chamber news
Xenon weathering test chamber view: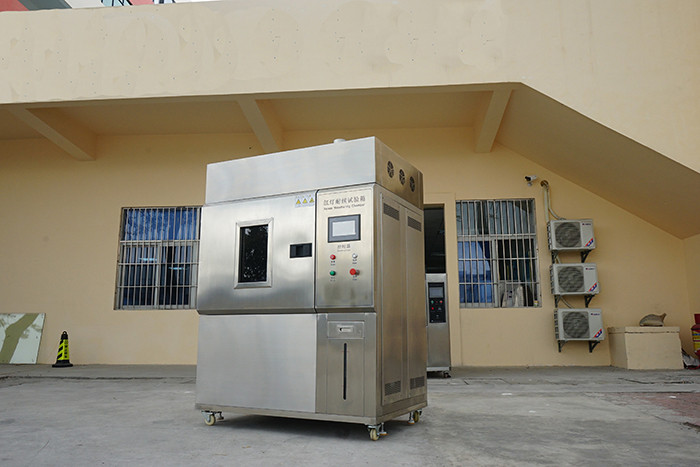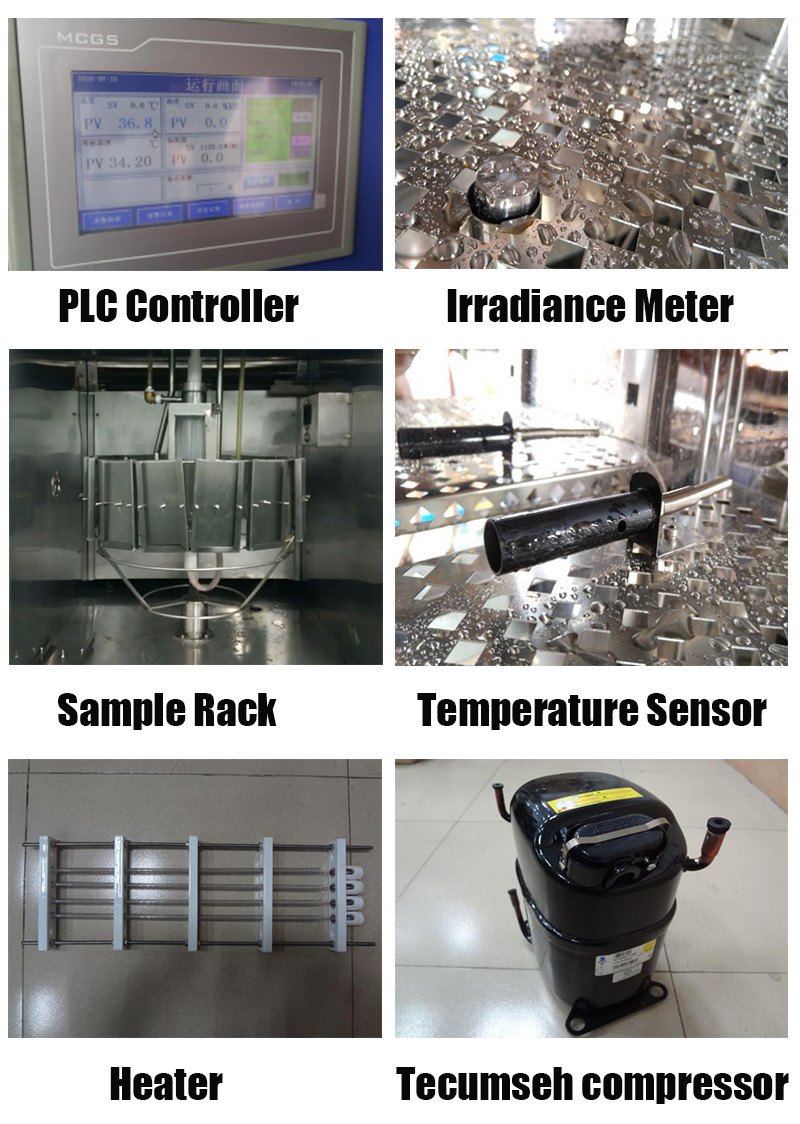 How to Contact Us?
Please Send your inquiry Details in the below for our quotation, Click "Send" Now!