Salt Corrosion Resistance Test Chamber 
Product Introduction:
Salt spray test chamber can assess the ability of certain products to resist salt spray corrosion by testing the material and its protective layer of salt spray corrosion ability, and similar protective layer of the process quality comparison.Climate Tester can provide you perfect salt spray test chamber that meet ASTM B117 Standard.
Usage:
Salt spray test chamber is widely used in electronics, electrical and automotive, motorcycle, hardware and other products, parts, metal materials and products of the plating, coating and other salt spray corrosion test.
Specifications:  
Model

CS-200

Internal Size (W*D*H) 

2000*1000*600mm

External Size (W*D*H)

2700*1250*1500mm

Equipment Material

P.V.C rigid plastic plate, thickness 8mm

Sample tray

Diameter 10mm glass fiber rod, anti-rust

V-shape plastic steel to make sure sample in 15~30 degree inclined

Temperature Range

Room temperature ~ 55℃

Temperature Fluctuations

≤±0.5℃

Temperature Uniformity

≤±2℃

Temperature Precision

±1℃

Spraying method

Continuous and Periodic spray type

Test Chamber Temperature

Salt Spray Method (NSS ACSS)35±1℃ 
Corrosion-resistant Testing Method (CASS) 50±1℃

Saturated air Barrel Temperature

Salt Spray Method (NSS ACSS)47±1℃ 
Corrosion-resistant Testing Method (CASS) 63±1℃

Brine Temperature

35℃±1℃

Spray Quantity

1.0~2.0 ml / 80cm2 / hr

PH value

Salt Spray Method (NSS ACSS6.5~7.2)
Corrosion-resistant Testing Method(CASS)3.0~3.2

Lab Volume

1200L

Brine Tank Capacity

40L

Multiple Safety Protection Devices

Current discharge protection, over pressure protection, over temperature protection, over load fuse protection

Accessories

Testing Salt / Measuring tank / Spray Nozzle x 1 set

Air source

Air pump (provided by buyer)

Test criteria

ASTM B117-08, ISO 9227...
How it works
The use of compressed air from the nozzle at high speed jet generated by the high-speed air flow, the formation of negative pressure above the suction pipe, the salt solution under the action of atmospheric pressure along the suction pipe quickly rose to the nozzle, high-speed air flow atomization and spray Tube tip of the cone-shaped fog after the spray mouth from the floating, spread to the laboratory test empty into a diffuse state, the natural landing on the specimen,and do salt spray corrosion test.
Salt spray test chamber standard:
GB/T20854-2007 Corrosion cycles of metals and alloys Exposure to salt, dry and wet conditions
GJB150.11A-2009 Military equipment laboratory environmental test method
ISO14993-2001 Corrosion of metals and alloys - Accelerated testing involving cyclic exposure to salt mist, "dry" and "wet" conditions
GB-T5170.8-2008 Inspection methods for environmental testing equipment for electrical and electronic products
GBT2424.17-2008 Guidelines for Soldering Tests
ASTM B117 Standard Practice for Operating Salt Spray (Fog) Apparatus
Salt SprayTest Chamber Details: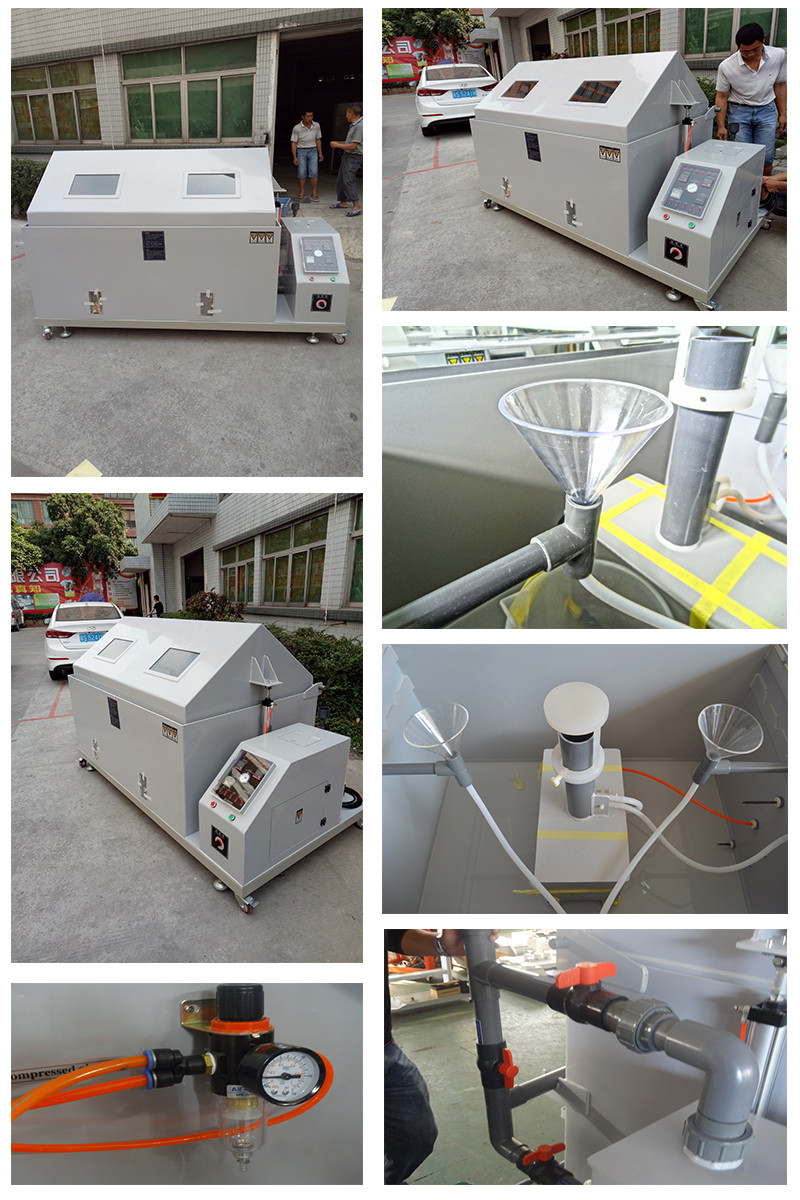 How to Contact Us?
Please Send your inquiry Details in the below for our quotation, Click "Send" Now!