High And Low Temperature Tensile Test Machine 
Product Description:
Temperature tensile test machine is a kind of electric tensile tester with temperature control chamber, which uses the motor to drive ball screw to move fixture. Place the fixture with sample between the upper and lower fixture in temperature chamber, use a given speed to pull sample upward by upper fixture. Load cell above upper fixture will sense tensile strength, and convert the strength into voltage sign and output to the display screen. And the strength value will be displayed automatically.
Standard Features
Tensile Tester

Frame capacity

2000kg

Load cell brand

Germany brand load cell for high accuracy

Load accuracy

0.5% F.S

Control system

PC with windows 7 system

Motor

Panasonic servo motor w/AC variable speed drive system, high-precision mechanical ball screw rod

Force reading

kgf, Ibf, N, KN, T etc

Vertical test space

1200mm including fixture

Test speed

0.1~300mm/min (adjustable)

Curves display

Load- elongation, Elongation-time, Time-elongation, Stress-strain

Data display

Max. force, speed, sample information, strength(Kpa, Mpa, N/mm, N/mm2) etc…

Internal dimension(W*D*H)

400*500*500mm

High & Low Temperature Chamber

Temperature range

-40~+150℃

Temperature Accuracy

±1℃

Cooling speed

1℃/min in average (without loading)

Heating speed

3℃/min in average (without loading)

Internal chamber material

SUS#304 stainless steel, mirror finished

External chamber material

Stainless steel with paint spray

Cooling method

Air cooling

Controller

LCD touch screen, programmable control temperature and humidity can set different parameter for cyclic test

Insulation material

50mm high density rigid Polyurethane foam

Heater

Explosion-proof type SUS#304 stainless steel fins radiator pipe heater

Compressor

France Tecumseh compressor

Lighting

Heat resistance

Temperature sensor

PT-100 dry and wet bulb sensor

Observation window

Tempered glass

Testing hole

Diameter 50mm, for cable routing

Sample tray

SUS#304 stainless steel, 2pcs
High And Low Temperature Tensile Test Machine News 
Chamber Picture: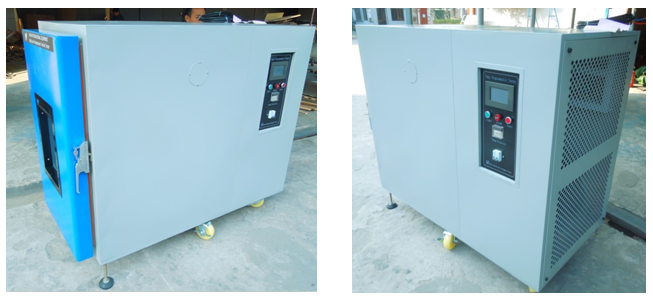 How to Contact Us?
Please Send your inquiry Details in the below for our quotation, Click "Send" Now!