Environmental Water Drip Test Chamber 
Product profile:
Water Drip Test Chamber meets the IP protection level IPX1 / IPX2 drip test, mainly for external lighting and signal devices and automotive lighting shell waterproof test test, while testing products in the transport process or use may be affected by the impact of water for product technical standards Reliable basis; the entire test process completed in the box, the water will not splash outdoors, and water can be recycled.
 Technical Parameter:water drip test chamber
 model

CW-IPX1  

CW-IPX2

Internal dimension (W*D*H)

800*800*800mm

1000*1000*1000mm

External dimension (W*D*H)

1300*1000*1700mm

1500*1200*1800mm

Internal chamber material

Stainless steel 304

External chamber material

Stainless steel

Observation window

Waterproof Toughened glass

Sample turntable

300mm

500mm

Turntable rotation speed

3r±1/Min, height can be adjusted

Water drop speed

1 or 3mm/min, can be adjusted

Dripping area

600*600mm

800*800mm

Distance from drip box to specimen surface 

200mm

Water drop hole diameter

0.4mm

Distance from water drop hole

20mm

Test duration

1~999,999min, adjustable

Turntable angle for IPX2

15° inclined on either side of the vertical in two mutually perpendicular planes

Water cycling system

Built-in chamber bottom for recycling

Power source

Single-phase, AC220V, 50/60HZ
Water Drip Test Chamer Meet Following Standards:
IEC60529 Enclosure protection grade test
IEC60598 General safety requirements and test standards for luminaires
IEC60335 Household appliances and similar electrical safety
IEC 60034-5:2000 Degrees of protection provided by the integral design of rotating electrical   machines
Water drip test chamber view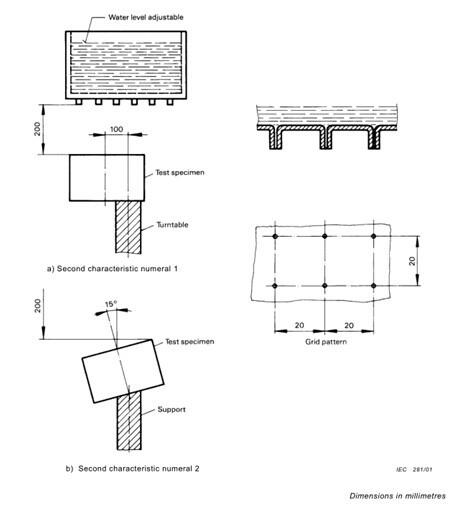 How to Contact Us?
Please Send your inquiry Details in the below for our quotation, Click "Send" Now!