Thermal Shock Test Chamber 
Product Introduction:
Thermal Shock Test Chamber is used to test the bearing extent of the material structures and composite material in an instant and continuous high temperature and extremely low temperature environment, which is in the shortest time to test its thermal expansion and contraction caused by chemical change or physical harm.
Usage:
Thermal shock test chamber is widely used in metal, plastic, rubber, electronics and other materials and it can be used as an important reference for improving product quality. It meets the standard of MTL, IEC, JIS, GJB…
Features:
1. Perfect appearance and easy to operate.
2. Japan LCD English microcomputer temperature controller, with high memory capacity, can save 100 programs, max 9999 cycles, each cycle max time 999hrs.
3. Three chamber structures, high temperature chamber, low temperature chamber and test chamber, control automatically, stay and switch time adjustable.
4. Perfect protection alarm functions: short-circuits, Leakage, over temperature of work chamber; compressor over pressure, over load, short water.
5. Control interface will display alarm reason and provide check methods, machine has emergency stop button.
6. Cold and hot shock temperature recover within 5 minutes, which complies with MTL, IEC, JIS, GJB and other international standards.
7. With RS-232C communication port for connecting PC to control, record and save test report.

Main parameters:
| | |
| --- | --- |
| Model | CTS |
| Inner dimension (W*D*H) | 500*450*450mm |
| External dimension (W*D*H) | 1380*1370*1980mm |
| Temperature range | -40 ~ +80℃ |
| High temperature chamber pre-heating range | 60 ~ 100℃ |
| Heating speed | +60→+100℃ about 10 minutes |
| Low temperature chamber pre-cooling range | -65 ~ 0 |
| Cooling speed | Ambient →-65℃ about 65 minutes |
| Temperature deviation | ±3℃ |
| Thermal recovery time | Within 5 minutes |
| External material | Antirust processing cold-rolled steel sheet |
| Internal material | SUS#304 stainless steel |
| Thermal insulation material | Polyurethane foam and fiberglass |
| Coolant | R404A / R23 |
| Cooling method | Air cooling |
| Pressure | 0.2 - 0.5Mpa |
| Power supply | Three phase, 380V, 50Hz |
Thermal shock test chamber meet following standards:
GJB150.5-86 Military environmental test method temperature shock test
GJB360.7-87 Thermal shock test
SJ/T10187-91Y73 Series of temperature change test box - box type
SJ/T10186-91Y73 Series of temperature change test box - two box type
GB/T2424.13-2002 Test methods; guidelines for temperature variations
QC/T17-92 General rules for weathering test of automotive components
EIA 364-32 Environmental impact assessment of electrical connectors and sockets 
Thermal shock test chamber images: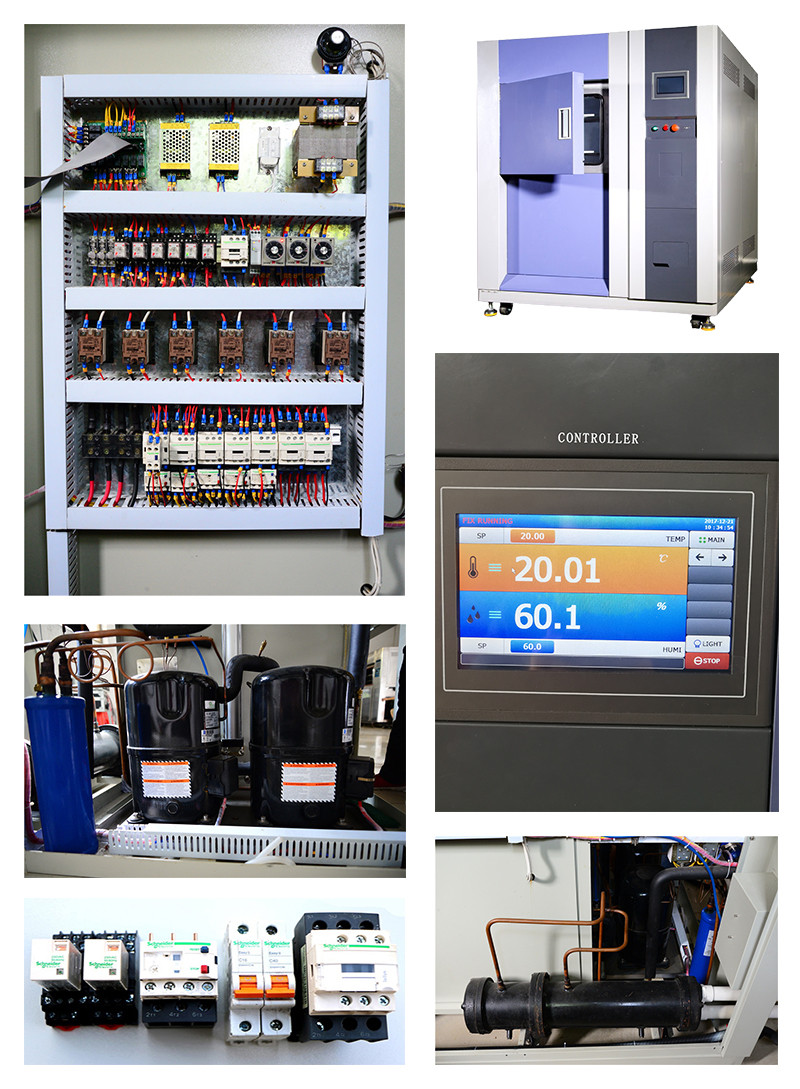 Thermal Shock Test Chamber News
How to Contact Us?
Please Send your inquiry Details in the below for our quotation, Click "Send" Now!